>>
Go here for part 2.
There is an inordinate readiness, both within scientific circles and in popular scientific understanding, to ascribe direct causation to the actions of hormones, especially when it comes to moods and behaviors. For example, consider how you'd usually interpret the common expression "being hormonal". I consider the thought that hormones somehow "control" our moods and behaviors a
falsehood
; a popular misunderstanding or oversimplification that hinders the understanding of what's actually going on. There is just as little motivation to call a hormone the "love hormone", the "stress hormone" or the "sleep hormone" as there is calling a gene the "gay gene" or the "god gene" et c. The idea that in fact there is no one gene for property X, Y or Z has become pretty pervasive now, and I think it's time the same thing happened for the actions of hormones.
Within this context, I want to use as an example a newly published study in PNAS that links the actions of the neurotransmitter and hormone oxytocin to ethnocentrism – the tendency to view one's own group, the in-group, as more important or superior to other groups.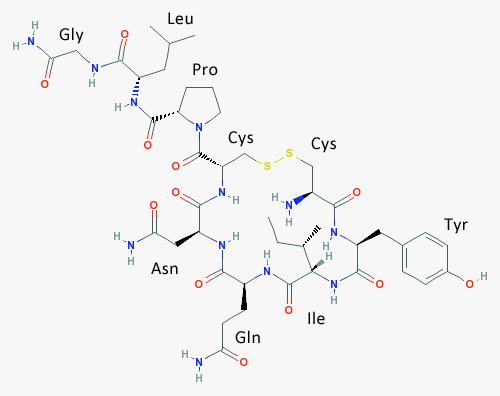 Molecular structure of human placental mammal, some marsupial, platypus, ratfish and elephant shark oxytocin.
Perhaps more than any other hormone, oxytocin has become the perfect example of the kind of "hormonal determinism" that I mention above: no doubt because the study of oxytocin is a very active field and because it's been linked to
some very fascinating behaviors
.
Doing
a quick search for oxytocin at ResearchBlogging.org
, for instance, is a good way to start finding evidence of this. Oxytocin has been linked to
trust and cooperation
,
generosity
,
facial recognition and emotional context
,
social bonding
(with
interesting implications
for
autism
),
learning and memory in social situations
,
empathy
,
parenting styles
and
maternal bonding
,
sexual arousal
,
ejaculation
and
orgasm
.
In the present study by De Dreu with co-workers, published in the advance edition of
PNAS
(see reference 1 below), randomized test subjects were given nasal sprays with oxytocin or placebo and were then asked to complete computerized tests designed to reveal favoritism towards the own group (Dutch males in this study) and derogation towards people outside the own group ("Arabs" and Germans in this study). The results from these tests consistently indicate that those test subjects who were given oxytocin were more likely to favor their own group than those subjects who received a placebo; they were faster to associate positive value words to their own group, represented by Dutch names in one of the tests, and less likely to sacrifice a Dutch-sounding individual in order to save a group of nondescript people in a moral choice dilemma task of the "sacrifice one person to save several people"-type. However, there was only limited evidence for the idea that the giving them oxytocin influenced out-group derogation, or the attitude that the out-group is inferior to one's own group. In other words, those subjects who received oxytocin were more likely to have ethnocentric attitudes, no matter who was in the out-group. This confirms earlier findings from the same research team (see reference 2 below) that showed that oxytocin could be implicated in in-group altruism, the willingness to do something that is detrimental to yourself but beneficial for your in-group, and defensive, but not offensive, attitudes towards out-groups.
The authors argue:
Results show that oxytocin creates intergroup bias because it motivates in-group favoritism and, in some cases, out-group derogation. These findings provide evidence for the idea that neurobiological mechanisms in general, and oxytocinergic systems in particular, evolved to sustain and facilitate within-group coordination and cooperation.
Elsewhere they write the following, speaking explicitly about racism and racial conflict:
Through its influence on in-group favoritism, oxytocin contributes to the development of inter-group bias and preferential treatment of in-group over out-group members. Because such unfair treatment triggers negative emotions, violent protests and aggression among disfavored and excluded individuals, by stimulation in-group favoritism, brain oxytocin may trigger a chain reaction towards intense between-group conflict.
I see several problems with these conclusions. Firstly, notice how the language is used to give a very clear causative image: "oxytocin creates", "it motivates", "oxytocin contributes", "oxytocin may trigger". To give you an example: I counted nine instances of "oxytocin creates", and eight instances each of "oxytocin motivates" and "oxytocin promotes", or variations thereof, in the article. This use of language rests on "hormonal determinism" - the assumption that there is a direct causal link between oxytocin and the ethnocentric behaviors they observe, something they haven't really proven in my opinion. But if there is absolutely no "hormonal determinism", no direct causation between the actions of a hormone and a specific behavior - and let's just for the moment assume that there is absolutely none, zip, zero – then how can we best interpret the repeated findings that clearly show that hormones are implicated in moods and behaviors?
The answer lies in the complexity of neurobiological systems. It's possible to say that oxytocin is
implicated
in ethocentrism, but it's difficult to say exactly under which conditions or in which situations outside of these experiments, or if it sometimes is overridden or reinforced by other neural substrates. The brain is complex enough to make it safe to assume that oxytocin probably isn't acting alone. Therefore we cannot always trust that the statistical significance of experiments actually equals biological relevance. Especially when trying to draw any sort of evolutionary conclusions. These are tests designed to be very specific, to dissect out very specific behaviors out of the confounding factors. It's good scientific methodology, as long as the conclusions match, which they don't quite do in this case.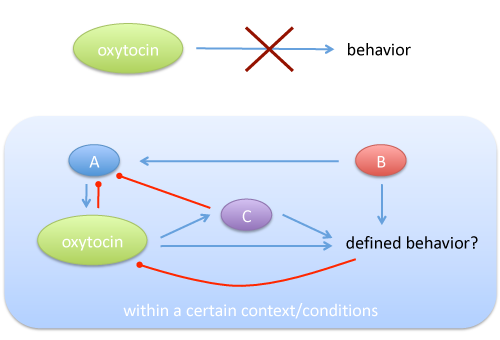 The difference between direct causal effect (upper) and complex neurobiological regulation (lower). The latter is entirely hypothetical in this case, but you get the picture. Blue arrows indicate positive regulation and red pointers inhibition. Many different factors can interplay and give feedback on different levels in order to produce a behavior.
So is there any good argument to say that oxytocin underlies racism, at least to some extent? Yes, sort of, to some extent. The authors of the study seem convinced of a direct causal link judging by the explicit mentions of racial conflict and the general tone of the article. In the abstract of the article they write
"we conjecture that ethnocentrism may be modulated by brain oxytocin, a peptide shown to promote cooperation among in-group members."
. But I'm less ready to take it that far. It's not yet known which other systems are involved interacting with oxytocin and under which cultural/societal conditions they are "switched on" (see figure above).
Several of the articles and blog posts that have covered these findings have pointed out that this reveals the "dark side" of oxytocin, thus seemingly promoting a more balanced view of this hormone's functions. Here in Sweden the headline frustratingly read:
"Love hormone is also racist hormone"
, while the
New York Times
and
TIME Magazine
have far more weighed articles where you can read more about the quite fascinating experimental methods.
It's good that we get a critical look at the boundaries of these "cuddly" properties, but it's justified to ask how "hormonal determinism" and the erroneous public perception of oxytocin as a "love hormone" are helped or balanced by the equally erroneous perception of it as a "racism hormone". There is just as little motivation to call oxytocin a "racism hormone" based on these results as there is calling it a "love hormone" based on its "cuddly" properties. Also, our definition of racism or ethnocentrism may very well be arbitrary to a certain degree and not reflect the true situations that our brains have evolved in. But that is the subject of another blog post on another day.
(1) De Dreu, C., Greer, L., Van Kleef, G., Shalvi, S., & Handgraaf, M. (2011). Oxytocin promotes human ethnocentrism

Proceedings of the National Academy of Sciences

DOI: 10.1073/pnas.1015316108

(2) De Dreu, C., Greer, L., Handgraaf, M., Shalvi, S., Van Kleef, G., Baas, M., Ten Velden, F., Van Dijk, E., & Feith, S. (2010). The Neuropeptide Oxytocin Regulates Parochial Altruism in Intergroup Conflict Among Humans

Science, 328

(5984), 1408-1411 DOI: 10.1126/science.1189047
>>
Update February 1: This article is delayed a few days since my internet connection at home has been on the fritz lately and I didn't notice it didn't upload before the weekend.

>> February 2: Edited for grammar and punctuation.