I've often wondered what's going on in the religious brain that is so different from what's going on in mine. How can religious people so determinedly "get it" while I just as determinedly don't. Turns out that, in a sense, not that much is different. Religious belief works through brain networks that have regular non-religious functions, suggesting that religion is nothing but a secondary effect of regular cognitive processes.
A study published in PNAS last week (ahead of print) set out to examine which psychological "dimensions" make up religious belief and how the brain processes them, largely through the use of functional magnetic resonance imaging, fMRI - a technique that allows researchers to get images of brain activity in awake test subjects performing different tasks. In this case the task was agreeing or disagreeing with statements such as "God is removed from the world", God is punishing", "God is forgiving", "A source of creation exists", "Religion provides moral guiding" and so on.
Some interesting conclusions:
The practice of religious belief involves the assessment of god's perceived involvement in the world and god's perceived emotion. So when we ponder god, we use the same brain networks that are used for understanding the intent of people around us, understanding their emotional state, predicting their actions and generating an appropriate emotional response to give back. This is a central mechanism behind our social interactions. This study demonstrates that we think of gods just as we think of anyone around us. There are no particular parts of the brain that are dedicated explicitly to understanding god, instead our brains try to "read" god just as we read the people we interact with.
It also seems like the reason some people adopt religious beliefs while other don't is largely emotional, with the effect being larger for those who are believers. When religious test subjects were asked to actively deny a series of religious statements they showed much larger involvement of brain networks involved in the communication between emotions and cognitive processes than non-religious test subjects. You can see these brain regions in the lower row of the figure below. This finding will be familiar to any non-believers who have discussed religion with believers. Their final arguments are often emotional instead of logical, they often claim to "just know" and their position is motivated by the negative emotional response of considering a world without god.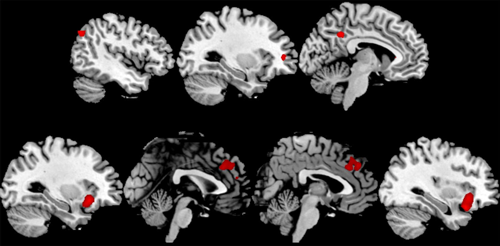 Ref: D. Kapogiannis et. al. (see reference below)
I'll take the opportunity to recommend the blog where I first found this study:
Epiphenom
. It's updated frequently with a lot of very nice information from studies on the neuroscience and psychology behind religious belief. You can
read more
there. But while the author of that blog states that this study doesn't do anything to prove that religious belief is a by-product of evolution, I see that it absolutely does. The authors even conclude with:
The evolution of these networks was likely driven by their primary roles in social cognition, language, and logical reasoning. Religious cognition likely emerged as a unique combination of these several evolutionarily important cognitive processes.
To me it's pretty clear that any supernatural belief is an "overshoot" of mental capacities that we use for other purposes, that we relate to supernatural entities just as we relate to those entities we interact with. Whether this is adaptive or not, whether it's been to our advantage or not, is another question altogether. I'm inclined to believe that given the complexity of the brain and the complexity of phenomena it can generate, it's unlikely that all of them, at any point in evolution, are the result of adaptation. The brain simply does too much. I'm open to the thought that cultural phenomena could have "abducted" some of our cognitive abilities more or less "by accident" to generate some of the more colorful phenomena of our cognition and behavior.

Kapogiannis, D., Barbey, A., Su, M., Zamboni, G., Krueger, F., & Grafman, J. (2009). Cognitive and neural foundations of religious belief

Proceedings of the National Academy of Sciences

DOI: 10.1073/pnas.0811717106

Swedish blog tags: Vetenskap, Biologi, Neurovetenskap, Hjärnan, Religion
Technorati tags: Science, Biology, Neuroscience, Brain, Religion