>> This post is slightly delayed since, you know, stuff gets in the way. But better late than never.

A comment on my post "lack of evidence for arctic root "natural medicine" raised a few points that I think are worthy of delving into. I wrote that post quite hastily with the only intention of just mentioning the review by Blomkvist, Taube and Larhammar published in Planta Medica, so it also gives me the opportunity to revisit the subject more in depth.

Firstly, let's state the facts as presented by the comprehensive scientific review of the most recent medical studies of arctic root/roseroot published by Blomkvist et. al.

Six of the seven recent (since 2000) studies that supposedly showed an effect of arctic root/roseroot had significant flaws, including irrelevant comparisons, inappropriate statistical methods, exaggerated conclusions, and mistakes in the presentation of the data. These mistakes go beyond simple holes in the statistics, they are of embarrassingly poor scientific quality.


Some of the problems are quite extraordinary. For instance, Spasov et al. based their final conclusion on a follow-up study that was not described in their article and remains unpublished. Darbinyan et al. claimed to have found a significant improvement over placebo despite contradictory results that they explained away with an unfounded assumption. The second study by Darbinyan et al. used irrelevant tests and an inappropriate statistical comparison. Bystritsky et al. and Fintelman and Gruenwald claim to have observed an effect but did not use a placebo control. Shevtsov et al. is riddled with misprints and mix-ups which make it difficult for the reader to interpret the text and understand the procedure. Also, the use of pulse pressure as a measure for physical fitness is incorrect, and the levels of statistical significance presented in the study appear unreasonably high.

They also reviewed four studies (and two reviews) that had not found any effects of arctic root/roseroot in the same critical way and found no errors, but commented that one of the studies had used a small number of test subjects making it of questionable value.

The Swedish Herbal Institute (SHI henceforth), makers and marketers of arctic root/roseroot preparations, were involved in four of the six flawed studies. Spasov et al. published in 2000; two studies by Darbinyan et al. published in 2000 and 2003; and Shevtsov et al. published in 2003. As exposed in the op-ed in Dagens Nyheter and summarized in my previous post, there were suspicious circumstances surrounding the publication of two of these articles, both co-authored by Georg Wikman of SHI. These circumstances certainly cast a shadow of doubt over the company as a serious research institution. It should be enough to make any reasonably skeptical person realize that there were serious faults committed in both the scientific and editorial processes.

The question is then: How much scrutiny is reasonable? Shouldn't the consumers be allowed to decide for themselves what works for them? Why attack good people and companies that just want to provide people with a product they want?

The first point raised in the comment to my previous post was that small companies, such as the SHI don't have the resources available to big pharmaceutical corporations. They are simply doing the best they can with what they have to discover and market the benefits of natural products. Furthermore they should be commended for their efforts and innovation and for having the guts to invest in this research and for giving something back even though they don't have to.

The second point is that by referring to the name of this particular company, Swedish Herbal Institute, as deceptive I'm doing the company wrong and hurting the nice folks there.

I really find little merit in SHI's supposed "efforts" to do "research". It's pretty clear to anyone that they have not gone through any sort of scientifically satisfying process in generating or publishing their data, despite the ridiculous boasts on their website.

I fail to see how their resources (or lack thereof) or their good will has anything to do with their adherence to proper scientific proceedings. Should those companies that can't afford the proper scientific procedures simply be exempt from them? As if it were optional. And why should they be exempt from critical and scientific scrutiny of their work simply because they are nice caring people who provide a service some people want?

As a minimum, they should not be permitted to promote and market their product with statements such as "clinically proven to enhance energy and improve mental clarity during stressful periods of work or studies" or "proven efficacy in clinical studies published in international scientific journals", which are clear exaggerations of the already unfounded scientific claims. Both statements appear prominently on SHI's website, as exemplified in the image below, and on many national ads.

Currently the Swedish Medical Products Agency lists this arctic root preparation as a so called "traditional herbal medicinal product" (link), meaning that it has been tested for safety but has a very limited scientific foundation, its indications being based only on traditional use for longer than 30 years. This stands in contrast to the claims presented in the marketing of the product.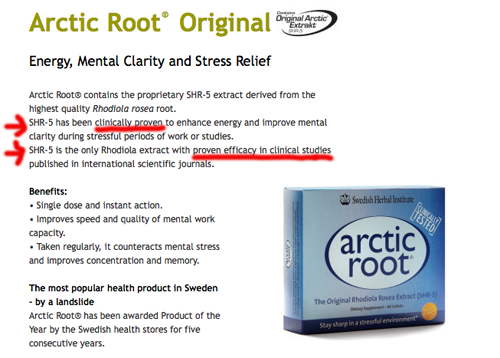 Ref: www.shi.se



Even if done in good faith, this can only be qualified as deception. Especially now that the scientific faults of the studies have been exposed. The fact that SHI has a commercial interest in the product and continue to promote is under false scientific claims just gives anyone the more reason to be skeptical about their intentions.

As for the second point, the term "institute" is not protected in Sweden, but it would be naive of anyone to deny that both the words "Swedish" and "institute" are sensitive issue when it comes to the naming of companies. A parallel can be drawn to the UK where "British", "English", "Scottish" et.c. and "institute" are protected and are clearly found to "imply national or international pre-eminence" and require the support of representative and independent bodies before they can be approved in a company name (reference).

The name "Swedish Herbal Institute", or "Örtmedicinska Institutet" in Swedish, definitely suggests an official level of prominence that the company doesn't have and is therefore misleading. It deceptively mirrors the names given to national institutes, governing agencies and representative bodies such as Smittskyddsinstitutet (Swedish Institute for Infectious Disease Control), Konjunkturinstitutet (Swedish National Institute of Economic Research), Folkhälsoinstitutet (Swedish National Institute of Public Health) and others.

They are welcome to continue providing those that feel arctic root works for them with their product, but to do so under the false pretenses that the product has a confirmed clinical effect or that it has gone through the correct scientific testing of the purported effects in the first place is simply unacceptable and worthy of criticism. The fact that the criticism may hurt the company or the people involved in it is irrelevant. In fact, they should welcome the opportunity to defend their statements in the leading morning newspaper of the country and one of the prominent journals in their field, where the criticism has been presented. So far it's been very silent though.

Blomkvist, J., Taube, A., & Larhammar, D. (2009). Perspective on Roseroot Studies


Planta Medica

DOI: 10.1055/s-0029-1185720

Swedish blog tags: Pseudovetenskap, Naturmedicin, Rosenrot
Technorati tags: Pseudoscience, Natural medicine, Roseroot, Arctic root, BPSDB